Easter is one of my favorite holidays! We always celebrate with a family get together complete with a Brunch and Easter Egg Hunt.  And you can't have a family get together without some fun activities for the kiddos!
If you have been following my parties, I always like to include a pin the tail on the donkey style party game specifically tailored to our theme.  A few years ago, I made a "Pin the Beak on the Chick" Easter Party Game for the kids to play and today, I'm excited to be sharing the free printable with you!
Easter Party Game
Materials you will need:
Scissors
11×17 paper for Game (can be sized down)
8.5 x 11 Paper for Beaks
Printer
Double sided tape
Blindfold
Adobe Acrobat Reader required, which can be downloaded for free at www.adobe.com
Directions:
Simply print the game and beaks.  Cut out each beak and adhere double-sided tape to the back of the beak.  Distribute a number to each child so they remember which beak is theirs.  Blindfold the child and spin them around three times and let them try to Pin the Beak to the Chick.  The number closest to the dotted area on the poster, wins a prize!  And that's it! Nice old fashioned fun for kids of all ages!  My boys range from 6 to 16 and the oldest is still a great sport when it comes to playing this game!
I hope you enjoy this fun little game and it adds a little extra something to your Easter celebration!
Happy Crafting!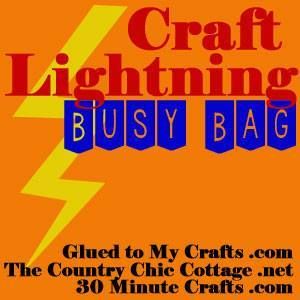 Looking for more Easter Craft Inspiration? Check out my other Easter inspired projects!
Title:
Easter Party Game | Craft Lightning Kids Activity
Mentions:
Easter, easter game, free printable, party game
Keywords:
Easter Party Game
Last Updated:
January 27, 2020