Hey crafty friends! I'm excited to be joining my crafty pals over at Team Creative Crafts with a fun Harry Potter themed project, so let's get started!
Disclosure: This post contains affiliate links and I will be compensated if you make a purchase after clicking on my links, at no additional cost to you. #cricutcreated #cricutmade
DIY Harry Potter Deathly Hallows Always Hat with Cricut
It's no secret that I love Harry Potter. You can tell by all the Harry Potter Crafts featured here on my blog. 😉 So when Team Creative Crafts asked me to join the Harry Potter Collab, I couldn't resist! I've been loving the Cricut Hat Press, it's so easy to whip up a custom hat in no time! Professor Snape is my favorite Harry Potter character, so naturally, I wanted to make a summer hat in his memory.
What you will need:
Let's make a Harry Potter Hat…Step by Step…
Once you have uploaded the image in Cricut Design Space, resize the image to fit your hat.
Send the image to your machine, don't forget to mirror the image! And load your vinyl on the mat.
While the machine is cutting your image, turn on the Cricut Heat Press and follow the instructions on the Cricut Heat App. Are you new to the Cricut Hat Press? Check out my Cricut Tutorial for Beginners.
Weed the design and attach it to your hat with Heat Resistant Tape.
Apply the Cricut Hat Press per the instructions on the Cricut Heat App. Be sure to apply pressure and move it side to side, covering the design until it beeps.
Once cooled, remove the carrier sheet to reveal your image!
I created a really quick and fun video to show the whole process from start to finish…(don't forget to subscribe to my TikTok channel for more Cricut crafts)!
So what do you think? Wasn't that a cinch and so fun?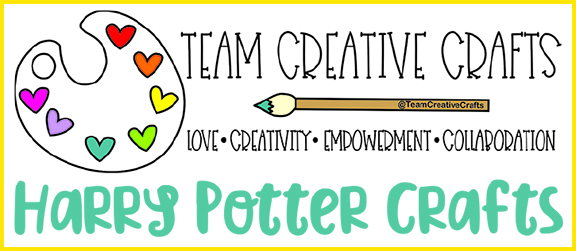 Be sure to check out all the other Team Creative Crafts Harry Potter Themed projects!
Catch a few mischievous Cornish Pixies in Jars to help Professor Glideroy Lockhart. Make sure to label them with the Free Printable Tags designed by Beth of Creatively Beth. Remember to not let Pixies loose in a classroom, they are devilishly tricky blighters.
Lindsay of Artsy Fartsy Mama is super talented with polymer clay. She sculpted these adorably wicked Harry Potter Cornish Pixies and will show you how with her step-by-step tutorial. Love those iridescent wings!
Give the Master of Death symbol a feminine touch with a Floral Deathly Hallows free cut file, created by Liz of Liz on Call. The Cloak of Invisibility, Resurrection Stone, and Elder Wand combine as a symbol to true believers who quest to find the Hallows.
Always creating halfway homemade goodies, Laura from Me and My INKlings is sharing a Bowtruckle Bread with Free Bakery Printable. Fantastic Beasts' Jacob Kowalski would be proud to serve these delicious treats at his bakery!
Blanca from Creativities Galore has created Harry Potter Favor Bags that are perfect for any wizard inspired party. Fill with magical goodies and gift to that special boy or girl.
Head over to The Girl Creative to download Diana's free printable Harry Potter Word Search. A fun activity to complete after reading the books or watching the movies. A fun (and sneaky) way to work on vocabulary with the kiddos.
Candice of She's Crafty Crafty is sharing a free cut file to create your very own Harry Potter Fund Jar. Savings is an important lesson for the kiddos. What will your fund be for – books, movies, or a trip?
For a complete reference guide, Marissa from Rae Gun Ramblings is sharing a Free Printable Harry Potter Spells List which is a must for any wizard! Click through to see how she made the coordinating magical Wand Pencils.
Jenny from Jenny's Crayon Collection is sharing Tips for Adult Coloring with a Harry Potter Book. This fabulous quote that Queenie said to Jacob in Fantastic Beasts and Where to Find Them is perfect in a rainbow of colors.
Check out the fun giveaway!
a Rafflecopter giveaway
Happy Crafting!
PIN FOR LATER!
Title:
DIY Harry Potter Hat with Cricut
Keywords:
Harry Potter Hat
Last Updated:
July 12, 2022